Helping some of the
most helpless among us,
Rug Anchor is another fine
Goodwill Industries project.




Order Your Rug Anchor Convenience Kit Today!
RUG ANCHOR'S READY-FOR-USE KIT
COMES WITH EVERYTHING YOU NEED
TO TAME YOUR UNRULY RUGS, RUNNERS,
CARPETS, MATS, AND LOTS OF OTHER ITEMS!

Each Rug Anchor Convenience Kit contains:


•

One 8-ounce bottle of Rug Anchor


•

Rug Anchor's one-of-a-kind applicator
Rug Anchor Convenience Kit
$19.95 each
---
Discounts and Free Shipping
on Double and Triple Packs!





Rug Anchor Double Pack
Buy 2 kits and save 5%!
Also: Free Shipping!!
Rug Anchor Triple Pack
Buy 3 kits and save 10%!
Also: Free Shipping!!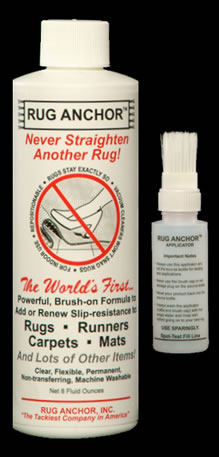 Rug Anchor
Convenience Kit